RESTAURANT
BUTCHER
AND
CATERING
Welcome to Fat Rabbit. What's in the name you ask? We don't really know, other than the fact that it has a good ring to it.
A butcher shop inside of a restaurant? Or a restaurant inside of a butcher shop?
We're not a Spanish restaurant but our menu is Tapas forward. In our spare time we like to build fires and cook food over wood, you can hire us to do that. We make all of our own charcuterie in house, and we're determined to get better at that everyday. How do two concepts operate together in harmony? We don't really know yet, but we will work on it 'til it's seamless. One thing we do know, all of the meat served & sold between these walls is derived from whole animals butchered in house, sourced from happy places.

THE DE MARTINES FAMILY FARM HAS BEEN IN PRODUCTION SINCE THE 1850'S. IT IS 100 ACRES OF RELATIVELY FLAT LAND WITH A WELL ESTABLISHED BUSH AND A SMALL STREAM AT THE BACK OF THE PROPERTY. WE, FRED AND INGRID DE MARTINES, FROM THE NETHERLANDS, BOUGHT THE FARM IN 1979. FRED IS A CERTIFIED SWINE SPECIALIST WITH EUROPEAN TRAINING AND EXPERIENCE. AFTER EXTENSIVE RENOVATIONS WE BEGAN THE PROCESS OF RAISING A FAMILY AND TOP QUALITY PIGS.
BEVERLY CREEK FARMS STARTED UP IN THE EARLY 2000'S AS JUST WHAT THE NAME SUGGESTS, A FARM. WE STARTED OUT WITH THE CARE AND SELLING OF OUR ANIMALS AND WE MAINLY FOCUSED ON OUR BEAUTIFUL ONTARIO LAMBS. THIS IS THE REASON WE TAKE SO MUCH PRIDE IN THE CARE OF OUR ANIMALS BECAUSE IT'S WHAT GOT US TO WHERE WE ARE TODAY.
PENEKOEAN HILLS FARMS PRODUCES ALL NATURALLY RAISED ANGUS BEEF. THE COWS ARE RAISED WITHOUT ANTIBIOTICS OR HORMONES AND BORN ON PASTURE. THEY ARE GRASS FED AND PEA FINISHED. THE INTRODUCTION OF FIELD PEAS TO THE COWS' DIET RESULTS IN HIGHER PROTEIN AND BETTER FLAVOR AS OPPOSED TO CORN FED WHICH CONTAINS HIGHER LEVELS OF SUGARS AND EMPTY CARBOHYDRATES.
LINTON PASTURE PORK, OPERATED BY JEFF LINTON IN WALTON, ONTARIO, LPP IS A SMALL 70 SOW FARROW TO FINISH HERD THAT IS 100% PASTURE REARED AND RAISED. LPP HAS SUCCESSFULLY CROSS-BRED HERITAGE BREEDS FROM BOTH THE UK AND NEW ZEALAND TO CREATE HIS OWN LPP "WHITE" BREED.
With 20 years of culinary experience, chef Zach Smith has ran kitchens from Vancouver to Niagara. Most recently, Toronto's Bar Raval and Matty Matheson's Meat & Three in Fort Erie, Ontario.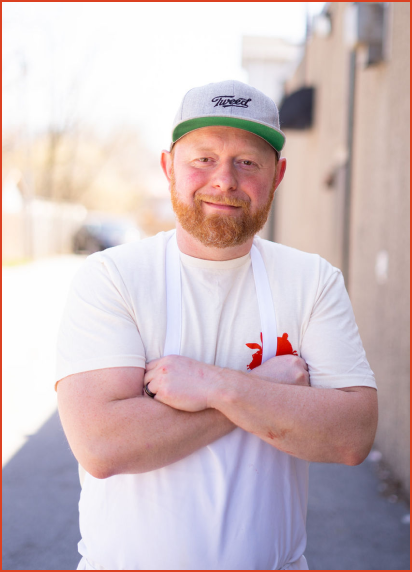 Justin's resume highlights years of culinary management in Niagara. At Fat Rabbit, his passion for zero waste butchery, old world charcuterie and his insistence to procure ethically raised animals make him a great fit for our Head Butcher.
With over 9 years of industry experience and a degree and diploma in Hospitality, our General Manager Emily Walkers passion for the industry aligns well with Fat Rabbit's goal and values. Leading our FOH Team, Emily will be an integral part of our daily operations!